Mexican Corn Chowder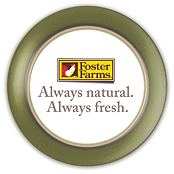 Servings: 6
Prep Time: 20 minutes
Cook Time: 40 minutes
User Rating:

Read User Reviews
Print:
3x5
,
4x6
,
full page
Copyright 2005 Allrecipes.com; by Bushy
Summary
Leftover cooked chicken and fresh or frozen corn kernels are combined with green chiles and oregano in this creamy corn chowder.
INGREDIENTS
2 Foster Farms Boneless Skinless Breast Fillets, cooked and cubed
1/4 cup butter
1 stalk celery, chopped
1 onion, chopped
1 carrot, chopped
1 clove garlic, minced
1 teaspoon dried oregano
salt and pepper, to taste
3 1/2 cups fresh corn kernels
1 cup chicken broth
2 teaspoons chopped green chile pepper
2 cups milk
DIRECTIONS
1. In a large saucepan over medium heat, melt butter. Cook celery, onion and carrot in butter until onion begins to soften. Stir in garlic, oregano, salt and pepper and cook 2 minutes more. Stir in corn, chicken broth, cooked chicken and chile pepper and let simmer until heated through. Stir in milk and heat gently just before serving.
NUTRITIONAL INFO
| | |
| --- | --- |
| Calories | 294 cal |
| Total Fat | 13.5 g |
| Cholesterol | 55 mg |
| Sodium | 336 mg |
| Carbohydrates | 30.2 g |
| Fiber | 3.3 g |
| Protein | 16.6 g |