Restaurant Style Chicken Nachos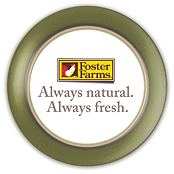 Servings: 6
Prep Time: 30 minutes
Cook Time: 10 minutes
User Rating:

Read User Reviews
Print:
3x5
,
4x6
,
full page
Copyright 2005 Allrecipes.com; by Laura
Summary
Tortilla chips are topped with a chicken and salsa mixture, melted cheese and tomato. These hearty nachos make a great snack and work well as a meal, too! Serve with sour cream and guacamole, if desired.
INGREDIENTS
Chicken Mixture:
1 Foster Farms Half Chicken Breast, cooked and shredded
2 cloves garlic, crushed
6 green onions, sliced, white parts and tips separated
3 tablespoons canola oil
1 cup salsa
Nachos:
1/2 (12 ounce) package tortilla chips
Toppings:
1 (8 ounce) package shredded Cheddar/Monterey Jack cheese blend
1/2 large tomato, diced
DIRECTIONS
1. Preheat oven to 350 degrees F (175 degrees C). 2. In a 12-inch skillet over medium heat, cook and stir the garlic and white parts of the green onions in canola oil until tender. Mix in shredded chicken, salt and pepper. Toss until well coated with oil. Stir in the salsa. 3. Arrange tortilla chips on a large baking sheet. Spoon the chicken mixture over tortilla chips. Top with Cheddar/Monterey Jack cheese blend and tomato. Bake in the preheated oven 10 minutes, or until cheese has melted. Remove from heat and sprinkle with green onion tops before serving.
NUTRITIONAL INFO
| | |
| --- | --- |
| Calories | 427 cal |
| Total Fat | 27.4 g |
| Cholesterol | 61 mg |
| Sodium | 611 mg |
| Carbohydrates | 23.6 g |
| Fiber | 3.1 g |
| Protein | 20.9 g |