Quick Chick!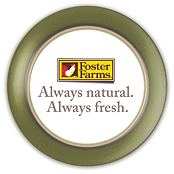 Servings: 4
Prep Time: 15 minutes
Cook Time: 360 minutes
User Rating:

Read User Reviews
Print:
3x5
,
4x6
,
full page
Copyright 2005 Allrecipes.com; by Deb Dulworth
Summary
Chicken and gravy cooked in a slow cooker. Terrific served over rice, noodles or potatoes.
INGREDIENTS
3 Foster Farms Boneless Skinless Breast Fillets
1 (12 ounce) jar turkey gravy
1/2 teaspoon paprika
1/2 teaspoon salt-free herb seasoning blend
1 teaspoon soy sauce
DIRECTIONS
1. Place chicken and gravy into a slow cooker. Season with paprika, seasoning blend and soy sauce. Cook on high for 4 hours or for 6 to 8 hours on medium. Tear chicken into pieces. Serve over rice, noodles or potatoes.
NUTRITIONAL INFO
| | |
| --- | --- |
| Calories | 136 cal |
| Total Fat | 2.6 g |
| Cholesterol | 59 mg |
| Sodium | 560 mg |
| Carbohydrates | 4.7 g |
| Fiber | 0.1 g |
| Protein | 22 g |