Summer Chicken Burgers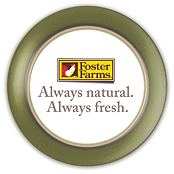 Servings: 4
Prep Time: 30 minutes
Cook Time: 30 minutes
User Rating:

Read User Reviews
Print:
3x5
,
4x6
,
full page
Copyright 2005 Allrecipes.com; by Ellie Adam
Summary
Mouthwatering sandwiches of grilled chicken, caramelized onion, provolone and avocado, on a toasted bun.
INGREDIENTS
1 ripe avocado, sliced
1 tablespoon lemon juice
1 tablespoon butter
1 large Vidalia onions, sliced into rings
4 Foster Farms boneless, skinless chicken breast halves
salt and pepper to taste
4 hamburger buns
4 tablespoons mayonnaise
4 slices provolone cheese
DIRECTIONS
1. In a small bowl, combine sliced avocado and lemon juice. Add water to cover; set aside. Preheat an outdoor grill for high heat and lightly oil grate.

2. Heat butter in a large heavy skillet over medium-high heat. Saute the onions until browned and caramelized; set aside.

3. Season the chicken with salt and pepper. Place on grill, and cook until no longer pink and juices run clear, about 5 minutes on each side. Place buns on grill just long enough to toast them.

4. Spread buns with mayonnaise to taste, then layer with chicken, caramelized onion, provolone and avocado.
NUTRITIONAL INFO
| | |
| --- | --- |
| calories | 589 cal |
| total fat | 32.9 g |
| cholesterol | 104 mg |
| sodium | 681 mg |
| carbohydrates | 33.6 g |
| fiber | 5.1 g |
| protein | 40.3 g |