Thai Grilled Chicken with Sweet Chile Dipping Sauce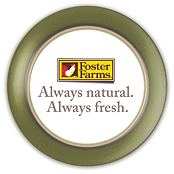 Servings: 4
Prep Time: 15 minutes
Cook Time: 30 minutes
User Rating:

Read User Reviews
Print:
3x5
,
4x6
,
full page
Copyright 2005 Allrecipes.com; by Michelle Chen
Summary
There are so many versions of this street food found in Thailand. Mine has been in our family for years, and we serve it with a tangy sweet chili sauce that really goes well with this easy dish. We often make a large quantity for parties as all our friends request this.
INGREDIENTS
Marinade:
1/2 cup coconut milk
2 tablespoons fish sauce
2 tablespoons minced garlic
2 tablespoons chopped cilantro
1 teaspoon ground turmeric
1 teaspoon curry powder
1/2 teaspoon white pepper
Chicken:
1 1/2 pound Foster Farms Whole Cut-Up Chicken
Dipping Sauce:
6 tablespoons rice vinegar
4 tablespoons water
4 tablespoons white sugar
1 teaspoon minced garlic
1/2 teaspoon minced bird's eye chile
1/4 teaspoon salt
DIRECTIONS
1. In a shallow dish, mix together the coconut milk, fish sauce, 2 tablespoons minced garlic, cilantro, turmeric, curry powder, and white pepper. Add chicken, and turn to coat. Cover, and refrigerate for 4 hours or overnight.

2. Preheat grill for high heat.

3. In a saucepan, combine vinegar, water, sugar, 1 teaspoon minced garlic, bird's eye chile, and salt; bring to a boil. Reduce heat to low, and simmer until liquid is reduced, about 5 minutes. Stir sauce from time to time. Remove from heat and allow to cool before use.

4. Lightly oil grill grate. Discard marinade, and place chicken on the grill. Cook for 10 minutes per side, or until slightly charred and juices run clear. Brush with sauce before serving. Serve remaining sauce on the side for dipping.
NUTRITIONAL INFO
| | |
| --- | --- |
| Calories | 332 cal |
| Total Fat | 19 g |
| Cholesterol | 73 mg |
| Sodium | 769 mg |
| Carbohydrates | 16.1 g |
| Fiber | 0.8 g |
| Protein | 24.4 g |