Pressure Cooker Chicken with Duck Sauce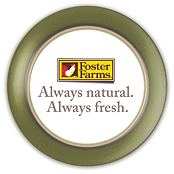 Servings: 4
Prep Time: 10 minutes
Cook Time: 20 minutes
User Rating:

Read User Reviews
Print:
3x5
,
4x6
,
full page
Copyright 2005 Allrecipes.com; by DEBMCE4
Summary
This is an easy to make Asian inspired recipe for chicken in a pressure cooker. It has a subtle sweet and sour taste to it. Serve over white rice with a side of stir fried broccoli.
INGREDIENTS
Chicken:
1 (3 pound) Foster Farms Whole Cut-Up Chicken, cut into pieces
1 tablespoon olive oil
salt and pepper to taste
1/2 teaspoon paprika
1/2 teaspoon dried marjoram
1/4 cup white wine
1/4 cup chicken broth
Duck Sauce:
1/4 cup apricot preserves
2 tablespoons white vinegar
1 1/2 teaspoons minced fresh ginger root
2 tablespoons honey
DIRECTIONS
1. Heat the olive oil in the pressure cooker with the lid off, over medium-high heat. Add chicken and brown on all sides as evenly as possible. Remove chicken from the cooker, and season with salt, pepper, paprika and marjoram. Drain and discard fat from the cooker, and mix in wine and chicken broth, scraping any bits of food that are stuck to the bottom.

2. Return chicken to the cooker over medium-high heat, secure the lid, and bring to high pressure for 8 minutes, or until the chicken is tender. Reduce pressure before opening the lid. The internal temperature of the chicken meat should be at 180 degrees F (82 degrees C).

3. Remove chicken to a serving dish, and add the apricot preserves, vinegar, ginger and honey to the pot. Bring to a boil, and cook uncovered until the sauce has reduced into a thick and syrupy consistency, about 10 minutes. Spoon over chicken and serve.
NUTRITIONAL INFO
| | |
| --- | --- |
| Calories | 551 cal |
| Total Fat | 29.2 g |
| Cholesterol | 146 mg |
| Sodium | 357 mg |
| Carbohydrates | 22 g |
| Fiber | 0.4 g |
| Protein | 46.3 g |