Pepper Jelly Glazed Chicken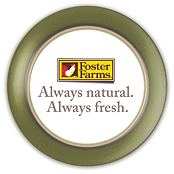 Servings: 4
Prep Time: 5 minutes
Cook Time: 60 minutes
User Rating:

Read User Reviews
Print:
3x5
,
4x6
,
full page
Copyright 2005 Allrecipes.com; by CARTUIN
Summary
This a great and easy way to use pepper jelly. Chicken breasts are glazed with a honey, mustard and pepper jelly sauce, then roasted in the oven.
INGREDIENTS
4 Foster Farms Half Breasts
1/3 cup red pepper jelly
1/3 cup Dijon mustard
1/3 cup honey
DIRECTIONS
1. Preheat the oven to 350 degrees F (175 degrees F).

2. Arrange chicken breasts in a baking dish so they are not crowded. In a cup or small bowl, mix together the pepper jelly, mustard and honey; pour over chicken to coat.

3. Bake uncovered for about 1 hour, basting occasionally, until chicken is no longer pink, and the juices run clear.
NUTRITIONAL INFO
| | |
| --- | --- |
| Calories | 479 cal |
| Total Fat | 13.5 g |
| Cholesterol | 127 mg |
| Sodium | 620 mg |
| Carbohydrates | 43.1 g |
| Fiber | 0.6 g |
| Protein | 46.4 g |