Peri Peri African Chicken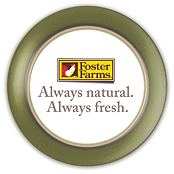 Servings: 4
Prep Time: 185 minutes
Cook Time: 15 minutes
User Rating:

Read User Reviews
Print:
3x5
,
4x6
,
full page
Copyright 2005 Allrecipes.com; by UKNO1CHEF
Summary
This is a great spicy marinade recipe, a traditional African dish, great for BBQ.
INGREDIENTS
Spice Rub:
1/4 cup paprika
2 tablespoons hot chili powder
1 cup fresh lemon juice
3 cloves garlic, minced
1 1/2 teaspoons chopped fresh ginger
1 1/2 teaspoons salt
Chicken:
4 Foster Farms Half Breasts
DIRECTIONS
1. In a large bowl, stir together the paprika, chili powder, lemon juice, garlic, ginger and salt. Rub chicken with the mixture, place in a dish, and marinate for 3 hours.

2. Preheat a grill for medium heat.

3. Place chicken onto the grill and discard the marinade. Cook for about 30 minutes, turning occasionally, until the skin is slightly charred and juices run clear.
NUTRITIONAL INFO
| | |
| --- | --- |
| Calories | 348 cal |
| Total Fat | 13.3 g |
| Cholesterol | 127 mg |
| Sodium | 1023 mg |
| Carbohydrates | 12.1 g |
| Fiber | 3.1 g |
| Protein | 46.8 g |