Honey Almond Chicken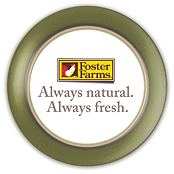 Servings: 6
Prep Time: 15 minutes
Cook Time: 70 minutes
User Rating:

Read User Reviews
Print:
3x5
,
4x6
,
full page
Copyright 2005 Allrecipes.com; by CRAFTYGIRL311
Summary
Chicken pieces are baked with a simple honey, lemon, and almond sauce.
INGREDIENTS
6 lbs Foster Farms Whole Cut Up Chicken
1/2 cup butter
1 large onion, chopped
1/4 cup honey
1/4 cup slivered almonds
1/4 cup lemon juice
DIRECTIONS
1. Preheat oven to 350 degrees F (175 degrees C). Arrange chicken parts in a baking dish.

2. Melt butter in a skillet over medium heat, and cook onion 5 minutes, until tender. Stir in honey, almonds, and lemon juice, and continue cooking 2 minutes, or until heated through. Pour over the chicken, coating each piece.

3. Cover dish with aluminum foil. Bake chicken 30 minutes in the preheated oven. Remove foil, and continue baking 30 minutes, until chicken juices run clear.
NUTRITIONAL INFO
| | |
| --- | --- |
| Calories | 380 cal |
| Total Fat | 28.1 g |
| Cholesterol | 100 mg |
| Sodium | 211 mg |
| Carbohydrates | 15.9 g |
| Fiber | 1.2 g |
| Protein | 17.6 g |