Tasty Chicken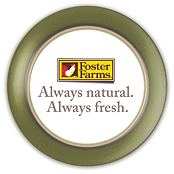 Servings: 4
Prep Time: 25 minutes
Cook Time: 25 minutes
User Rating:

Read User Reviews
Print:
3x5
,
4x6
,
full page
Copyright 2005 Allrecipes.com; by Kevin Peterson
Summary
A basic stir fry of chicken and vegetables with soy sauce and herbs proves that a minimalist approach can yield a tasty result.
INGREDIENTS
4 Foster Farms Boneless Skinless Breast Fillets
1/4 cup soy sauce
1 pinch garlic powder
1/4 teaspoon dried sage
3 green bell pepper, minced
1 onion, chopped
2 carrots, sliced thin
2 tablespoons olive oil
USER NOTES & RATINGS
8/9/2007 Reviewed by Teresa Garcia

i Love this recipe.. it's easy to make and tasty!
Rate and add Comments
DIRECTIONS
1. Slice chicken into small cubes.

2. Heat oil in a wok or frying pan over medium high heat. Brown chicken. Add carrots, and cook with chicken until slightly cooked. Add onions, bell peppers, sage, garlic powder, and soy sauce. Stir and cook continuously until chicken and vegetables are done, about five to ten minutes.
NUTRITIONAL INFO
| | |
| --- | --- |
| Calories | 247 cal |
| Total Fat | 8.5 g |
| Cholesterol | 68 mg |
| Sodium | 1001 mg |
| Carbohydrates | 12.8 g |
| Fiber | 3.2 g |
| Protein | 29.5 g |