Chicken Scarpariello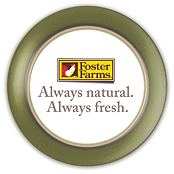 Summary
A wonderful delicate dish using Foster Farms Boneless Skinless Chicken Breats, quick to fix. It is especially nice served over angel hair pasta or white rice.
INGREDIENTS
1 1/4 pounds Foster Farms skinless, boneless chicken breast halves
3 tablespoons all-purpose flour
2 tablespoons olive oil
2 teaspoons butter
2 tablespoons shallots, minced
2 cloves garlic, minced
1 cup water
1/2 cup white wine
1 cube chicken bouillon
1/2 teaspoon dried rosemary, crushed
1/4 teaspoon salt
1 pinch ground black pepper
DIRECTIONS
1. Cut chicken breasts into 1 x 3 inch strips, and dredge in flour.

2. In 10 inch skillet, heat oil and butter. Add chicken. Cook, turning occasionally, until lightly browned on all sides (3 to 4 minutes). Using tongs, remove chicken from skillet. Set aside and keep warm.

3. To same skillet, add shallots and garlic. Saute until softened (1 minute). Add water, wine, broth mix, and seasonings. Mix well. Cook, stirring frequently, until liquid is reduced by 1/2 (3 to 4 minutes). Return chicken to skillet, and cook until sauce is thick and chicken is heated through (2 to 3 minutes).
NUTRITIONAL INFO
| | |
| --- | --- |
| calories | 571 cal |
| total fat | 21.4 g |
| cholesterol | 176 mg |
| sodium | 1102 mg |
| carbohydrates | 13.2 g |
| fiber | 0.7 g |
| protein | 67.8 g |