Jerk Chicken and Pasta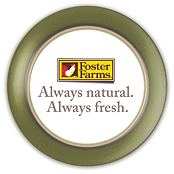 Servings: 4
Prep Time: 15 minutes
User Rating:

Read User Reviews
Print:
3x5
,
4x6
,
full page
Copyright 2005 Allrecipes.com; by Terry Coonan
INGREDIENTS
4 Foster Farms Boneless Skinless Breast Fillets
2 teaspoons jerk paste
1 (12 ounce) package uncooked egg noodles
1 tablespoon olive oil
1 clove garlic, minced
1 cup chicken stock
1 tablespoon jerk paste
1/2 cup dry white wine
1/4 cup chopped fresh cilantro
2 limes, quartered
salt and pepper to taste
1/2 cup heavy whipping cream
4 sprigs fresh cilantro, for garnish
DIRECTIONS
1. Rub each breast half with 1/2 teaspoon jerk paste, and place in a shallow dish. Cover, and refrigerate at least 1 hour. 2. Preheat the grill for high heat. Bring a large pot of lightly salted water to a boil, cook the egg noodles 6 to 8 minutes, until al dente, and drain. 3. Lightly oil the grill grate. Grill chicken 8 to 10 minutes on each side, until juices run clear. 4. Meanwhile, heat the olive oil in a large saucepan over medium heat, and cook the garlic for one minute. Mix in the chicken stock, 1 tablespoon jerk paste, white wine, chopped cilantro, juice of 1 lime, salt, and pepper. Bring to a boil, reduce heat to low, and stir in the heavy cream. Cook and stir until mixture is thickened, about 5 minutes. Do not allow it to boil. 5. Pour the cooked egg noodles into the saucepan, and toss with the cream sauce. Divide noodles onto 4 serving plates, and top with grilled chicken. Garnish each serving with a cilantro sprig and the juice of 1/4 lime.
NUTRITIONAL INFO
| | |
| --- | --- |
| Calories | 588 cal |
| Total Fat | 24.4 g |
| Cholesterol | 177 mg |
| Sodium | 556 mg |
| Carbohydrates | 58.6 g |
| Fiber | 3.4 g |
| Protein | 38.3 g |