Sweet Spicy Wings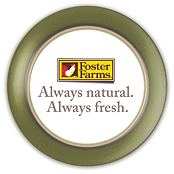 Servings: 12
Prep Time: 15 minutes
Cook Time: 30 minutes
User Rating:

Read User Reviews
Print:
3x5
,
4x6
,
full page
Copyright 2005 Allrecipes.com; by Lisa I.
Summary
Grilled chicken wings get zapped with a mighty hot sauce made with Louisiana-style hot sauce blended with butter, honey, and cayenne.
INGREDIENTS
6 pounds Foster Farms Chicken Wings, separated at joints, tips discarded
Sauce
1 1/2 cups Louisianne-style hot sauce
3/4 cup butter
1 cup honey
1 pinch garlic salt
1 pinch ground black pepper
1 teaspoon cayenne pepper, or to taste
DIRECTIONS
1. Preheat an outdoor grill for high heat.

2. Lightly oil the grill grate. Grill the chicken 8 to 12 minutes on each side, or until juices run clear. (You can deep fry or bake the chicken instead if you want to, but it is best when grilled.) Remove chicken to a large roasting pan.

3. In a saucepan over medium heat, mix the hot sauce, butter, honey, garlic salt, black pepper, and cayenne pepper. Simmer about 10 minutes, until blended and heated through. Pour the sauce over the grilled chicken wings and stir to coat.
NUTRITIONAL INFO
| | |
| --- | --- |
| Calories | 356 cal |
| Total Fat | 22.7 g |
| Cholesterol | 79 mg |
| Sodium | 932 mg |
| Carbohydrates | 23.9 g |
| Fiber | 0.5 g |
| Protein | 15.6 g |