Gina's Lemon Pepper Chicken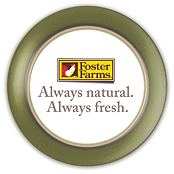 Servings: 6
Prep Time: 10 minutes
Cook Time: 30 minutes
User Rating:
Read User Reviews
Print:
3x5
,
4x6
,
full page
Copyright 2005 Allrecipes.com; by Gina Fillippi
Summary
That a mere sprinkling of lemon pepper, garlic and onion powders should have such a tasty effect on the Boneless Skinless Chicken Breasts baked!
INGREDIENTS
6 Foster Farms skinless, boneless chicken breast halves
1 teaspoon lemon pepper
1 pinch garlic powder
1 teaspoon onion powder
DIRECTIONS
1. Preheat oven to 350 degrees F (175 degrees C).

2. Place chicken in a lightly greased 9x13 inch baking dish. Season with lemon pepper, garlic powder and onion powder to taste. Bake in preheated oven for 15 minutes.

3. Turn over chicken pieces and add more seasoning to taste. Bake for an additional 15 minutes, or until chicken is cooked through and juices run clear.
NUTRITIONAL INFO
| | |
| --- | --- |
| calories | 133 cal |
| total fat | 2.8 g |
| cholesterol | 67 mg |
| sodium | 136 mg |
| carbohydrates | 0.5 g |
| fiber | 0.1 g |
| protein | 24.6 g |