Drunken Chicken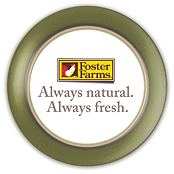 Servings: 5
Prep Time: 30 minutes
Cook Time: 60 minutes
User Rating:

Read User Reviews
Print:
3x5
,
4x6
,
full page
Copyright 2005 Allrecipes.com; by The Freemans
Summary
This is a wild one: A whole chicken is smeared with Dijon mustard, then grilled over a can filled with beer and Italian dressing!
INGREDIENTS
1 (3 pound) Foster Farms Whole Young Chicken
salt and pepper to taste
1 cup Dijon-style prepared mustard
8 fluid ounces beer
1/2 cup Italian-style salad dressing
DIRECTIONS
1. Prepare an outdoor grill for medium heat, and lightly oil grate.

2. Rinse chicken and pat dry. Season with salt and pepper to taste. Coat with mustard.

3. Pour half of beer out of can and refill with Italian style dressing. Place can on a disposable baking sheet. Set chicken on beer can (it acts as a stand), inserting can into cavity of the chicken.

4. Place baking sheet with beer and chicken on the prepared grill. Cover, and cook about 1 hour, until chicken is no longer pink and juices run clear.
NUTRITIONAL INFO
| | |
| --- | --- |
| Calories | 775 cal |
| Total Fat | 56.7 g |
| Cholesterol | 204 mg |
| Sodium | 1590 mg |
| Carbohydrates | 9.6 g |
| Fiber | 0.7 g |
| Protein | 54.1 g |