Cranberry Chicken III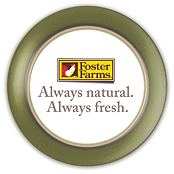 Servings: 4
User Rating:

Read User Reviews
Print:
3x5
,
4x6
,
full page
Copyright 2005 Allrecipes.com; by Corwynn Darkholme
Summary
A fruity alternative to barbecue sauce, this chicken grills up mighty tasty in a cranberry-lemon-rosemary glaze.
INGREDIENTS
2 1/2 pounds Foster Farms Whole Cut Up Chicken
salt and pepper to taste
Sauce
1 (8 ounce) can jellied cranberry sauce
1/4 cup corn syrup
2 tablespoons lemon juice
2 tablespoons melted butter
1/2 teaspoon dried rosemary, crushed
USER NOTES & RATINGS
1/10/2006 Reviewed by LACY

I PREPARED THIS RECIPE FOR MY SIBLINGS AND THEY ENJOYED IT AND THEY WERE IMPRESSED WHEN THEY FOUND OUT IT WAS ACTUALLY CRANBERRIES INVOLVED AND IT WASNT JUST "SWEET CHICKEN".
Rate and add Comments
DIRECTIONS
1. Heat grill to medium. Rinse chicken and pat dry. Season with salt and pepper to taste.

2. To Make Sauce: In a medium bowl combine the cranberry sauce, corn syrup, lemon juice, butter/margarine and rosemary. Mix well. Set aside.

3. Grill chicken pieces, bone side up, on uncovered grill over medium hot coals for 20 minutes. Turn chicken and grill for another 20 to 30 minutes or until tender and juices run clear, brushing often with the sauce during the last 15 minutes of cooking.
NUTRITIONAL INFO
| | |
| --- | --- |
| Calories | 802 cal |
| Total Fat | 48.6 g |
| Cholesterol | 228 mg |
| Sodium | 274 mg |
| Carbohydrates | 37.2 g |
| Fiber | 0.6 g |
| Protein | 53 g |