Easy Garlic Chicken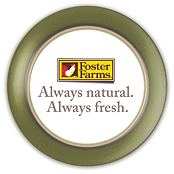 Summary
Simply dip the Foster Farms Whole/Cut Up chicken in melted garlic butter, roll in bread crumbs and bake for a moist, flavorful entree.
INGREDIENTS
1 1/2 pounds Foster Farms Cut Up Chicken
1/4 cup butter
6 cloves crushed garlic
2 cups seasoned dry bread crumbs
DIRECTIONS
1. Preheat oven to 375 degrees F (190 degrees C).

2. In a small saucepan melt butter/margarine with garlic. Dip chicken pieces in butter/garlic sauce, letting extra drip off, then coat completely with bread crumbs.

3. Place coated chicken in a lightly greased 9x13 inch baking dish. Combine any leftover butter/garlic sauce with bread crumbs and spoon mixture over chicken pieces. Bake in the preheated oven for 45 minutes to 1 hour.
NUTRITIONAL INFO
| | |
| --- | --- |
| calories | 509 cal |
| total fat | 16.6 g |
| cholesterol | 130 mg |
| sodium | 694 mg |
| carbohydrates | 40.6 g |
| fiber | 1.4 g |
| protein | 46.5 g |