Marinated Rosemary Lemon Chicken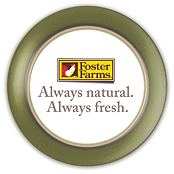 Servings: 4
Prep Time: 15 minutes
Cook Time: 15 minutes
User Rating:

Read User Reviews
Print:
3x5
,
4x6
,
full page
Copyright 2005 Allrecipes.com; by Barbara Edwards
Summary
A simple marinade of lemon, rosemary, and olive oil gives grilled chicken a Mediterranean flair.
INGREDIENTS
4 Foster Farms Boneless Skinless Breast Fillets
1 lemon, sliced
Marinade
1/2 cup lemon juice
1/8 cup olive oil
2 tablespoons dried rosemary
DIRECTIONS
1. In a large resealable plastic bag, mix the lemon juice, olive oil, and rosemary. Place the chicken and lemon slices in the bag. Seal, and shake to coat. Marinate in the refrigerator 8 hours or overnight.

2. Preheat the grill for high heat.

3. Lightly oil the grill grate. Discard marinade, and grill chicken 8 minutes per side, or until juices run clear. Don''t worry about the rosemary sticking to the chicken, it tastes great when it''s grilled. If you use fresh rosemary sprigs, throw the stems onto the coals - they give the chicken even more of a smoky rosemary flavor!
NUTRITIONAL INFO
| | |
| --- | --- |
| Calories | 209 cal |
| Total Fat | 9.9 g |
| Cholesterol | 67 mg |
| Sodium | 60 mg |
| Carbohydrates | 6.6 g |
| Fiber | 2.1 g |
| Protein | 25 g |