Darn Good Chicken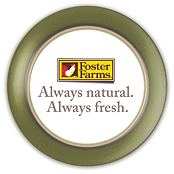 Servings: 5
Prep Time: 30 minutes
Cook Time: 30 minutes
User Rating:

Read User Reviews
Print:
3x5
,
4x6
,
full page
Copyright 2005 Allrecipes.com; by Judi J.
Summary
Nutmeg offers this quick honey mustard sauce extra sweetness.
INGREDIENTS
1 (2 to 3 pound) Foster Farms Whole Cut Up Chicken, cut into pieces
1/2 cup honey, warmed slightly
1/2 cup prepared mustard
1/2 teaspoon ground nutmeg
DIRECTIONS
1. In a small bowl combine the warm honey, mustard and nutmeg and mix until well blended. Smear onto the chicken pieces, coating well. Refrigerated and let sit for 1/2 hour.

2. Preheat oven to 375 degrees F (190 degrees C).

3. Bake in the preheated oven for 30 minutes, or until done and chicken juices run clear. You can also grill or broil for 30 minutes, turning chicken pieces after 15 minutes of cooking.
NUTRITIONAL INFO
| | |
| --- | --- |
| Calories | 609 cal |
| Total Fat | 35.1 g |
| Cholesterol | 170 mg |
| Sodium | 440 mg |
| Carbohydrates | 30 g |
| Fiber | 0.9 g |
| Protein | 43.3 g |