Grilled Chicken Salad with Seasonal Fruit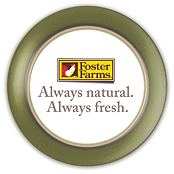 Servings: 6
Prep Time: 15 minutes
Cook Time: 20 minutes
User Rating:

Read User Reviews
Print:
3x5
,
4x6
,
full page
Copyright 2005 Allrecipes.com; by Karena
Summary
This salad looks and tastes great and can be varied with the seasons. In summer use your favorite type of berry along with the grilled chicken, and in winter use orange segments (or try dried apricots or cranberries. The dressing is a sweet vinaigrette, and complements both the fruit and the poultry.
INGREDIENTS
1 pound Foster Farms Boneless Skinless Breast Fillets
1/2 cup pecans
1 teaspoon ground mustard
2 heads Bibb lettuce - rinsed, dried and torn
1 cup sliced fresh strawberries
Dressing
1/3 cup red wine vinegar
1/2 cup white sugar
1 cup vegetable oil
1/2 onion, minced
1 teaspoon salt
1/4 teaspoon ground white pepper
DIRECTIONS
1. Preheat the grill for high heat.

2. Lightly oil the grill grate. Grill chicken 8 minutes on each side, or until juices run clear. Remove from heat, cool, and slice.

3. Meanwhile, place pecans in a dry skillet over medium-high heat. Cook pecans until fragrant, stirring frequently, about 8 minutes. Remove from heat, and set aside.

4. In a blender, combine the red wine vinegar, sugar, vegetable oil, onion, mustard, salt, and pepper. Process until smooth.

5. Arrange lettuce on serving plates. Top with grilled chicken slices, strawberries, and pecans. Drizzle with the dressing to serve.
NUTRITIONAL INFO
| | |
| --- | --- |
| Calories | 566 cal |
| Total Fat | 46 g |
| Cholesterol | 43 mg |
| Sodium | 429 mg |
| Carbohydrates | 23 g |
| Fiber | 2.3 g |
| Protein | 17.8 g |