Ty's Barbequed Chicken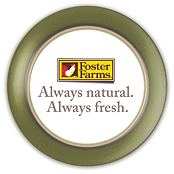 Servings: 5
Prep Time: 45 minutes
Cook Time: 30 minutes
User Rating:

Read User Reviews
Print:
3x5
,
4x6
,
full page
Copyright 2005 Allrecipes.com; by Tammy Yerke
Summary
Foster Farms Boneless Skinless Breast Fillets are used for this great BBQ! This is a fast, really tasty marinade that you can do at the last minute. Chopped onion, honey, ketchup, brown sugar, and soy sauce are mixed together and poured over chicken breasts. Chill for an hour and then grill. Makes four generous servings.
INGREDIENTS
Marinade
1 onion, chopped
salt and pepper to taste
4 tablespoons honey
4 tablespoons ketchup
4 tablespoons brown sugar
1 tablespoon soy sauce
2 Foster Farms Boneless Skinless Breast Fillets
DIRECTIONS
1. Rinse chicken and pat dry. In a shallow glass bowl combine the onion, salt, pepper, honey, ketchup, sugar and soy sauce. Mix all together. Add chicken, stir to coat. Cover and marinate in refrigerator for 30 minutes.

2. Lightly oil grill and preheat to high.

3. Remove chicken from marinade and grill over high heat for 15 minutes each side or until juices run clear.
NUTRITIONAL INFO
| | |
| --- | --- |
| Calories | 166 cal |
| Total Fat | 0.7 g |
| Cholesterol | 27 mg |
| Sodium | 361 mg |
| Carbohydrates | 29.9 g |
| Fiber | 0.6 g |
| Protein | 11.6 g |