Spicy Chicken Breasts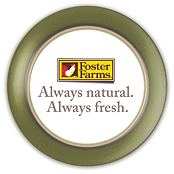 Servings: 4
Prep Time: 15 minutes
Cook Time: 15 minutes
User Rating:

Read User Reviews
Print:
3x5
,
4x6
,
full page
Copyright 2005 Allrecipes.com; by Barbara Radford
Summary
This is a terrific rub for the Foster Farms Boneless Skinless Breast Fillets just before it's plopped onto the grill. It adds amazing flavors, seals in juices, and gives the finished chicken a lot of color. Stores nicely.
INGREDIENTS
Rub
2 1/2 tablespoons paprika
2 tablespoons garlic powder
1 tablespoon salt
1 tablespoon onion powder
1 tablespoon dried thyme
1 tablespoon ground cayenne pepper
1 tablespoon ground black pepper
4 Foster Farms Boneless Skinless Breast Fillets
DIRECTIONS
1. In a medium bowl, mix together the paprika, garlic powder, salt, onion powder, thyme, cayenne pepper, and ground black pepper. Set aside about 3 tablespoons of this seasoning mixture for the chicken; store the remainder in an airtight container for later use (for seasoning fish, meats, or vegetables).

2. Preheat grill for medium-high heat. Rub some of the reserved 3 tablespoons of seasoning onto both sides of the chicken breasts.

3. Lightly oil the grill grate. Place chicken on the grill, and cook for 6 to 8 minutes on each side, until juices run clear.
NUTRITIONAL INFO
| | |
| --- | --- |
| Calories | 173 cal |
| Total Fat | 2.4 g |
| Cholesterol | 68 mg |
| Sodium | 1826 mg |
| Carbohydrates | 9.2 g |
| Fiber | 2.6 g |
| Protein | 29.2 g |