Feta Cheese Turkey Burgers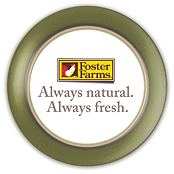 Servings: 4
Prep Time: 10 minutes
Cook Time: 12 minutes
User Rating:

Read User Reviews
Print:
3x5
,
4x6
,
full page
Copyright 2005 Allrecipes.com; by Lol
Summary
Move over hamburgers -these Foster Farms Turkey Burgers studded with feta cheese, Kalamata olives, and oregano are fabulous. Grill and serve on your favorite whole wheat bun or stuffed inside pita bread.
INGREDIENTS
1 pound Foster Farms Fresh Ground Turkey 7% Fat
1 cup crumbled feta cheese
1/2 cup kalamata olives, pitted and sliced
2 teaspoons dried oregano
ground black pepper to taste
USER NOTES & RATINGS
7/21/2006 Reviewed by Mary Tabor

Your recipe for Feta Turkey Burgers deserves a ten star rating. I'm throwing away the ground beef!
Rate and add Comments
DIRECTIONS
1. Preheat the grill for medium high heat.

2. In a large bowl, combine turkey, feta cheese, olives, oregano, and pepper. Mix together, and form into patties.

3. Lightly oil the grate. Place patties on the grill. Cook for 10 to 12 minutes, turning halfway through.
NUTRITIONAL INFO
| | |
| --- | --- |
| Calories | 349 cal |
| Total Fat | 24.8 g |
| Cholesterol | 123 mg |
| Sodium | 982 mg |
| Carbohydrates | 4.6 g |
| Fiber | 0.5 g |
| Protein | 25.7 g |