Jean's Homemade Chicken Noodle Soup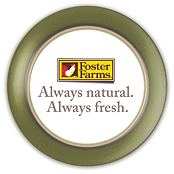 Servings: 4
Prep Time: 20 minutes
Cook Time: 25 minutes
User Rating:

Read User Reviews
Print:
3x5
,
4x6
,
full page
Copyright 2005 Allrecipes.com; by Jean Wu
Summary
Using Foster Farms Breast Tenders, chopped and cooked up, using fresh ginger root gives extra zest to this otherwise standard chicken noodle recipe. This soup can be prepared in less than a half hour, and is great comfort food, especially during cold season.
INGREDIENTS
1/2 cup Foster Farms Breast Tenders, chopped and cooked
2 (14 ounce) can chicken broth
2 cups water
3 carrots, chopped
3 stalks celery, chopped
1 pinch ground black pepper
3 sliced fresh ginger root
1 tablespoon vegetable oil
1/2 cup egg noodles
DIRECTIONS
1. In a large pot over medium heat combine the broth, water, carrots, celery and ground black pepper and allow to cook. In a medium skillet over medium high heat, combine the ginger, oil and chicken. Saute for about 5 minutes and remove the sliced ginger.

2. Add the chicken to the broth mixture, bring to a boil and then add the egg noodles. Continue to cook over medium heat for about 15 minutes until noodles and vegetables are tender.
NUTRITIONAL INFO
| | |
| --- | --- |
| Calories | 135 cal |
| Total Fat | 6.7 g |
| Cholesterol | 18 mg |
| Sodium | 884 mg |
| Carbohydrates | 11.2 g |
| Fiber | 2.4 g |
| Protein | 7.9 g |