Soy and Garlic Marinated Chicken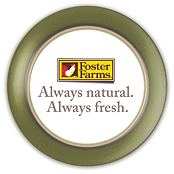 Servings: 4
Prep Time: 70 minutes
Cook Time: 30 minutes
User Rating:

Read User Reviews
Print:
3x5
,
4x6
,
full page
Copyright 2005 Allrecipes.com; by Tracy
Summary
This is the easiest marinade I have ever used, and one of the most popular with my family. This recipe also works well with any cut of Foster Farms chicken--thighs, legs, etc.
INGREDIENTS
4 Foster Farms Boneless Skinless Breast Fillets or any other Foster Farms Chicken Product
4 cloves garlic, minced
1/2 cup soy sauce
DIRECTIONS
1. In a large, nonporous bowl, combine the garlic and the soy sauce. Add the chicken and turn to coat well. Cover and marinate in the refrigerator for at least an hour.

2. Preheat an outdoor grill for medium high heat and lightly oil the grate.

3. Grill chicken over medium high heat for 10 to 15 minutes per side, or until internal temperature reaches 180 degrees F (80 degrees C). Discard any remaining marinade.