Spicy Grilled Chicken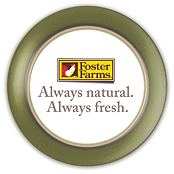 Servings: 6
Prep Time: 75 minutes
Cook Time: 15 minutes
User Rating:

Read User Reviews
Print:
3x5
,
4x6
,
full page
Copyright 2005 Allrecipes.com; by Jenn H.
Summary
This is a slightly hot lime juice based marinade that adds wonderful flavors to grilled chicken. The Foster Farms Chicken Breasts marinate in the fridge for about an hour, and then are grilled until moist and crispy brown.
INGREDIENTS
6 Foster Farms Boneless Skinless Breast Fillets
1/3 cup vegetable oil
2 tablespoons lime juice
1/2 teaspoon grated lime zest
2 cloves crushed garlic
1 1/2 teaspoons fresh oregano
1/4 teaspoon red pepper flakes
1 teaspoon salt
1/4 teaspoon ground black pepper
DIRECTIONS
1. In a shallow glass dish, mix the oil, lime juice, lime zest, garlic, oregano, red pepper flakes, salt, and black pepper. Add chicken, and turn to coat. Cover, and marinate in the refrigerator for 1 hour, turning occasionally.

2. Preheat grill for medium-high heat.

3. Lightly oil the grill grate. Drain and discard marinade. Grill chicken for 6 to 8 minutes each side, or until juices run clear.
NUTRITIONAL INFO
| | |
| --- | --- |
| Calories | 242 cal |
| Total Fat | 15.1 g |
| Cholesterol | 67 mg |
| Sodium | 446 mg |
| Carbohydrates | 1 g |
| Fiber | 0.1 g |
| Protein | 24.6 g |