Tina's Best BBQ Lime Chicken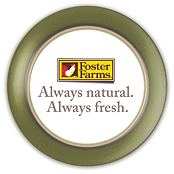 Servings: 8
Prep Time: 140 minutes
Cook Time: 90 minutes
User Rating:

Read User Reviews
Print:
3x5
,
4x6
,
full page
Copyright 2005 Allrecipes.com; by Tina Fox
Summary
This recipe is so popular with family and friends. I love making it, and it's so easy and delicious. It's so good with grilled corn on the cob and a potato salad. If I use Foster Farms chicken breasts, I cut the breasts into chunks after grilling and mix the grilled chicken into Fettucine Alfredo. It's so good!
INGREDIENTS
1 (4 pound) Foster Farms Whole Cut Up Chicken, cut into pieces
Rub
2 teaspoons seasoning salt
2 teaspoons ground black pepper
1/2 teaspoon cayenne pepper
Marinade
1 1/2 cups fresh lime juice
1 cup olive oil
8 cloves garlic, minced
1/2 cup chopped fresh cilantro
DIRECTIONS
1. Wash chicken parts. Pat dry thoroughly. Pierce all pieces with a fork. In a small bowl, combine the seasoning salt, ground black pepper and cayenne pepper. Rub all chicken parts with the spices, then place the chicken into a large, resealable plastic bag.

2. In a separate medium bowl, combine the lime juice, olive oil, garlic and cilantro. Mix well and pour into the bag with the chicken. Seal and let marinate in the refrigerator for at least 2 hours.

3. Preheat an outdoor grill for low heat and lightly oil grate.

4. Remove chicken from the refrigerator and pour marinade into a small saucepan over medium high heat. Bring to a boil for about 1 to 2 minutes.
NUTRITIONAL INFO
| | |
| --- | --- |
| Calories | 747 cal |
| Total Fat | 61.3 g |
| Cholesterol | 170 mg |
| Sodium | 391 mg |
| Carbohydrates | 5.9 g |
| Fiber | 0.5 g |
| Protein | 42.8 g |