Teriyaki Chicken and Vegetable Kabobs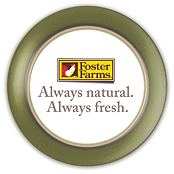 Servings: 10
Prep Time: 270 minutes
Cook Time: 10 minutes
User Rating:

Read User Reviews
Print:
3x5
,
4x6
,
full page
Copyright 2005 Allrecipes.com; by Sue
Summary
Grilled steak and Foster Farms Chicken that doesn''t dry out on the grill, but stays moist and flavorful. These kabobs are simple to make, and delicious to eat. Skewered meat with peppers, onions, and mushrooms in a honey teriyaki sauce.
INGREDIENTS
Marinade
1/2 cup teriyaki sauce
1/2 cup honey
1/2 teaspoon garlic powder
1/2 pinch ground ginger
Kabobs
1 1/2 pounds Foster Farms Boneless Skinless Breast Fillets, cut into cubes
2 red bell peppers, cut into 2 inch pieces
1 large sweet onion, peeled and cut into wedges
1 1/2 cups whole fresh mushrooms
1 pound beef sirloin, cut into 1 inch cubes
skewers
DIRECTIONS
1. In a large resealable plastic bag, mix the teriyaki sauce, honey, garlic powder, and ginger. Place red bell peppers, onion wedges, mushrooms, beef, and chicken in the bag with the marinade. Seal, and refrigerate 4 to 24 hours.

2. Preheat grill for medium-high heat.

3. Discard marinade, and thread the meat and vegetables onto skewers, leaving a small space between each item.

4. Lightly oil the grill grate. Grill skewers for 10 minutes, turning as needed, or until meat is cooked through and vegetables are tender.
NUTRITIONAL INFO
| | |
| --- | --- |
| Calories | 302 cal |
| Total Fat | 13.3 g |
| Cholesterol | 74 mg |
| Sodium | 622 mg |
| Carbohydrates | 21.3 g |
| Fiber | 1.3 g |
| Protein | 24.8 g |