BBQ Miso Chicken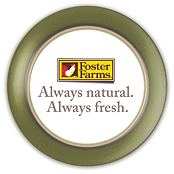 Servings: 6
Prep Time: 135 minutes
Cook Time: 25 minutes
User Rating:

Read User Reviews
Print:
3x5
,
4x6
,
full page
Copyright 2005 Allrecipes.com; by Eric
Summary
Foster Farms Boneless Skinless Chicken Breast marinated in a miso (soy bean paste) sauce and grilled over an open fire. The miso is also mixed with beer, soy sauce, sugar, and sesame oil to give it a complex flavor.
INGREDIENTS
Marinade
1 cup miso paste
1 cup beer
1 cup low sodium soy sauce
1 cup white sugar
2 teaspoons sesame oil
1/8 teaspoon cayenne pepper
2 1/2 pounds Foster Farms Boneless Skinless Breast Fillets
DIRECTIONS
1. In a large bowl, combine the miso paste, beer, soy sauce, sugar, sesame oil, and cayenne pepper. Stir until the miso and sugar are completely dissolved. Set aside 1/2 cup of the sauce for basting during grilling. Submerge the chicken in the remaining marinade, cover bowl, and refrigerate for at least 2 hours.

2. Preheat grill for medium-high heat.

3. Lightly oil the grill grate. Remove the chicken from the marinade, and discard marinade. Grill chicken for 6 to 8 minutes per side, basting during the last few minutes with the reserved sauce. The chicken is done when it's juices run clear.
NUTRITIONAL INFO
| | |
| --- | --- |
| Calories | 487 cal |
| Total Fat | 9 g |
| Cholesterol | 108 mg |
| Sodium | 3184 mg |
| Carbohydrates | 51.3 g |
| Fiber | 2.9 g |
| Protein | 47.1 g |