Grilled Chicken Noodle Soup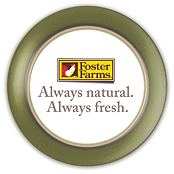 Servings: 6
Prep Time: 30 minutes
Cook Time: 60 minutes
User Rating:

Read User Reviews
Print:
3x5
,
4x6
,
full page
Copyright 2005 Allrecipes.com; by Michi
Summary
This is a quick chicken noodle soup with mushrooms, peas and carrots. Chopped chicken breast is sauteed to bring out its best flavor. Egg noodles are suggested, but use any noodle that you like.
INGREDIENTS
3 Foster Farms Boneless Skinless Breast Fillets, cut into bite size pieces
1 tablespoon vegetable oil
1 cup uncooked egg noodles
Vegetables
1 cup sliced carrots
1/3 cup frozen green peas
1 cup chopped celery
1/2 red onion, chopped
3/4 cup chopped fresh mushrooms
DIRECTIONS
1. Heat oil in a medium skillet over medium high heat. Fry chicken pieces in the oil until slightly browned and the juices run clear. Remove from the pan and drain on a paper towel.

2. In a large saucepan or Dutch oven, heat chicken broth over medium heat. Add the carrots, peas, celery, onion and mushrooms. Bring to a boil, then reduce heat and let simmer for 20 to 25 minutes. Add the noodles and cook for 10 more minutes or until noodles are al dente.
NUTRITIONAL INFO
| | |
| --- | --- |
| Calories | 154 cal |
| Total Fat | 4.7 g |
| Cholesterol | 40 mg |
| Sodium | 741 mg |
| Carbohydrates | 10.4 g |
| Fiber | 1.8 g |
| Protein | 17 g |