Rice with Goodies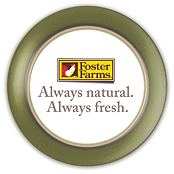 Servings: 12
Prep Time: 15 minutes
Cook Time: 30 minutes
User Rating:

Read User Reviews
Print:
3x5
,
4x6
,
full page
Copyright 2005 Allrecipes.com; by Doreen Friesen
Summary
This dish is a great way to use up leftover turkey. All sorts of goodies - sweet and savory - are tossed together with bacon, turkey and rice to create a wild flavor sensation. Get creative and add your own goodies!
INGREDIENTS
1 cup Foster Farms Fresh Turkey Breast Cutlets, cooked and chopped OR leftover Turkey
Rice
3 cups water
1 1/2 cups uncooked white rice
Vegetables
1/2 onion, chopped
2 stalks celery, diced
1 carrot, chopped
1/2 cup peas
1 cup fresh mushrooms, sliced
Goodies
3 slices bacon
1/2 cup slivered almonds
1/2 cup raisins
1 Granny Smith apple - peeled, cored and diced
1 teaspoon chicken soup base
3 tablespoons soy sauce
1/2 cup chopped parsley
ground black pepper to taste
DIRECTIONS
1. In a medium saucepan bring water to a boil. Add rice and stir. Reduce heat, cover and simmer for 20 minutes.

2. Place bacon in a large, deep skillet. Cook over medium high heat until evenly brown.

3. Mix the onion, celery, carrot, peas, mushrooms, almonds, raisins and apple into the skillet. Slowly cook and stir over medium heat until tender.

4. Mix in the turkey, chicken soup base, soy sauce, parsley and pepper. Mix in the rice. Serve hot.
NUTRITIONAL INFO
| | |
| --- | --- |
| Calories | 216 cal |
| Total Fat | 7.9 g |
| Cholesterol | 14 mg |
| Sodium | 384 mg |
| Carbohydrates | 28.7 g |
| Fiber | 2.3 g |
| Protein | 8.2 g |