Healthy Turkey Loaf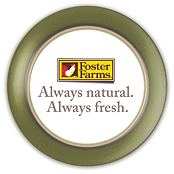 Servings: 5
Prep Time: 15 minutes
User Rating:

Read User Reviews
Print:
3x5
,
4x6
,
full page
Copyright 2005 Allrecipes.com; by Susan
INGREDIENTS
1/2 pound Foster Farms Fresh Ground Turkey 7% Fat
1 egg
1/4 cup salsa
1/8 cup chopped red bell pepper
1/8 cup chopped yellow bell pepper
1/4 cup chopped onion
1/4 cup dry bread crumbs
lemon pepper to taste
DIRECTIONS
1. Preheat oven to 350 degrees F (175 degrees C). 2. In a large bowl combine the turkey, egg, salsa, red bell pepper, yellow bell pepper, onion, bread crumbs and lemon pepper. Mix well with hands until blended. Press mixture into a loaf pan. 3. Bake in the preheated oven for 25 minutes.
NUTRITIONAL INFO
| | |
| --- | --- |
| Calories | 113 cal |
| Total Fat | 5.1 g |
| Cholesterol | 78 mg |
| Sodium | 158 mg |
| Carbohydrates | 6.1 g |
| Fiber | 0.5 g |
| Protein | 10.2 g |