Rosemary Turkey Meatloaf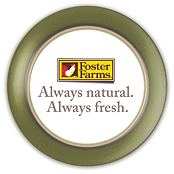 Servings: 8
Prep Time: 15 minutes
User Rating:

Read User Reviews
Print:
3x5
,
4x6
,
full page
Copyright 2005 Allrecipes.com; by Tim
INGREDIENTS
Turkey Meatloaf
1 1/2 pounds Foster Farms Fresh Ground Turkey 7% Fat
2 cups dry bread crumbs
1 onion, chopped
1 egg, beaten
1 cup milk
1/2 cup balsamic vinegar
1 clove garlic, minced
1 teaspoon salt
1 teaspoon pepper
1 1/2 tablespoons chopped fresh rosemary
Sauce:
1 cup canned tomato sauce
3/4 cup brown sugar
1 tablespoon Dijon mustard
DIRECTIONS
1. Preheat oven to 350 degrees F (175 degrees C). Lightly grease a 9x5 inch loaf pan. 2. In a large mixing bowl, mix together the ground turkey, bread crumbs, onion, egg and milk. Season with balsamic vinegar, salt, pepper and rosemary. Press into the prepared pan. Blend together the tomato sauce, brown sugar and mustard; pour evenly over the top of the loaf. 3. Bake for 1 hour in the preheated oven, or until juices run clear when pricked with a knife.
NUTRITIONAL INFO
| | |
| --- | --- |
| Calories | 364 cal |
| Total Fat | 10 g |
| Cholesterol | 96 mg |
| Sodium | 872 mg |
| Carbohydrates | 47.6 g |
| Fiber | 1.5 g |
| Protein | 20.8 g |