Lemon Dijon Wings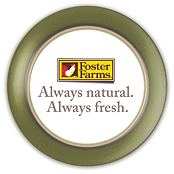 Servings: 4
Prep Time: 135 minutes
Cook Time: 20 minutes
User Rating:

Read User Reviews
Print:
3x5
,
4x6
,
full page
Copyright 2005 Allrecipes.com; by David Sabourin
Summary
Foster Farms Chicken wings are marinated in a garlicky lemon and mustard sauce, then grilled to mouthwatering perfection.
INGREDIENTS
2 pounds Foster Farms Chicken Wings, separated at joints, tips discarded
1/4 cup olive oil
1 tablespoon fresh lemon juice
2 tablespoons coarse-grained Dijon mustard
6 cloves garlic, chopped
2 teaspoons salt
1 tablespoon freshly ground black pepper
USER NOTES & RATINGS
3/23/2006 Reviewed by aaron

loving the dijon wings. great recipe!
Rate and add Comments
DIRECTIONS
1. In a large bowl, stir together the olive oil, lemon juice, mustard, garlic, salt, and pepper. Add chicken wings, cover, and marinate in the refrigerator for at least 2 hours, stirring occasionally.

2. Preheat grill for high heat. Drain marinade from chicken into a small saucepan. Bring marinade to a boil, and simmer for 5 minutes. Set aside for basting.

3. Lightly oil the grill grate. Grill wings for 10 to 15 minutes, or until juices run clear. Turn frequently and baste with the marinade during the last 5 minutes.
NUTRITIONAL INFO
| | |
| --- | --- |
| Calories | 303 cal |
| Total Fat | 24.6 g |
| Cholesterol | 48 mg |
| Sodium | 1391 mg |
| Carbohydrates | 2.9 g |
| Fiber | 0.5 g |
| Protein | 15.8 g |