Turkey Tetrazzini II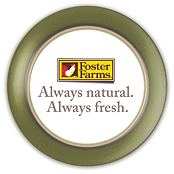 Servings: 8
Prep Time: 20 minutes
Cook Time: 60 minutes
User Rating:

Read User Reviews
Print:
3x5
,
4x6
,
full page
Copyright 2005 Allrecipes.com; by Ann
Summary
This easy pasta dish is a great way to use the turkey leftovers - and a Parmesan lover's dream!
INGREDIENTS
Spaghetti:
1 (16 ounce) package uncooked spaghetti
Sauce:
1/2 cup butter
1/2 cup all-purpose flour
3 cups chicken broth
2 cups milk
1 2/3 cups grated Parmesan cheese
Turkey:
4 cups Foster Farms Turkey Breast Cutlets, cooked and chopped
DIRECTIONS
1. Preheat oven to 350 degrees F (175 degrees C). Lightly grease a medium baking dish.

2. Bring a large pot of lightly salted water to a boil. Add spaghetti, and cook for 8 to 10 minutes or until al dente. Drain, and place in the prepared baking dish.

3. Melt butter in a medium saucepan over medium heat. Stir in flour. Mix in chicken broth and milk. Cook and stir until the mixture comes to a boil. Stir in about 1 1/3 cups Parmesan cheese, and remove from heat.

4. Mix chicken broth mixture and turkey with spaghetti. Top with remaining cheese. Bake 1 hour in the preheated oven, until surface is lightly browned.
NUTRITIONAL INFO
| | |
| --- | --- |
| Calories | 594 cal |
| Total Fat | 24.1 g |
| Cholesterol | 106 mg |
| Sodium | 964 mg |
| Carbohydrates | 51.9 g |
| Fiber | 1.6 g |
| Protein | 40 g |