Tangy Almond Chicken Kabobs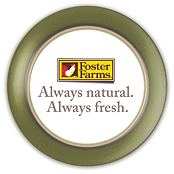 Summary
Chunks of Foster Farms Boneless Skinless chicken breasts are grilled with a sweet, tangy marinade, and coated with toasted almonds.
INGREDIENTS
1 tablespoon Dijon mustard
1 tablespoon honey
1 tablespoon vegetable oil
1 tablespoon lemon juice
4 Foster Farms Boneless Skinless Chicken Breasts - cubed
1/4 cup chopped toasted almonds
16 bamboo skewers, soaked in water for 20 minutes
DIRECTIONS
1. In a medium, nonreactive bowl, blend Dijon mustard, honey, vegetable oil, and lemon juice. Place chicken in the mixture, stirring to coat. Cover, and, turning occasionally, allow to marinate in the refrigerator at least 1 hour.

2. Preheat an outdoor grill for high heat, and lightly oil grate. Soak wooden skewers in water for about 20 minutes.

3. Thread chicken onto skewers. Arrange on the prepared grill, and cook 7 to 10 minutes, until no longer pink and juices run clear. Brush chicken occasionally with remaining marinade while cooking.

4. Remove skewers from heat, and quickly roll in the almonds to lightly coat chicken. Discard remaining marinade mixture.
NUTRITIONAL INFO
| | |
| --- | --- |
| calories | 58 cal |
| total fat | 2.4 g |
| cholesterol | 17 mg |
| sodium | 43 mg |
| carbohydrates | 1.7 g |
| fiber | 0.3 g |
| protein | 7.4 g |