Best Marinated Grilled Chicken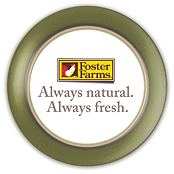 Servings: 6
Prep Time: 10 minutes
Cook Time: 45 minutes
User Rating:

Read User Reviews
Print:
3x5
,
4x6
,
full page
Copyright 2005 Allrecipes.com; by Pamela
Summary
Sweet and tangy BBQ chicken with a hint of smoke flavor. Serve with pasta salad.
INGREDIENTS
Marinade:
1 1/2 cups water
1/3 cup rice wine
1/3 cup sesame oil
1/4 cup soy sauce
2 tablespoons honey mustard
1/4 cup brown sugar
2 dashes liquid smoke flavoring
1 (.7 ounce) package dry Italian-style salad dressing mix
1 tablespoon grated orange zest
1 teaspoon ground ginger
2 teaspoons paprika
1 teaspoon fine herbs
Chicken:
1 (4 pound) Foster Farms Whole Cut-Up Chicken, skin removed & cut into pieces
6 sprigs fresh rosemary
DIRECTIONS
1. In a large shallow dish, combine water, wine, sesame oil, soy sauce, mustard, brown sugar and liquid smoke. Stir in Italian dressing mix, orange zest, ginger, paprika and fines herbs. Place chicken in the dish, and turn to coat. Cover, and refrigerate overnight. 2. Preheat an outdoor grill for medium heat, and lightly oil grate. 3. Discard marinade. Grill chicken 15 to 20 minutes per side, until no longer pink and juices run clear. Occasionally place rosemary sprigs on coals to impart a unique smoky flavor to chicken.