Mushroom Blue Cheese Turkey Burgers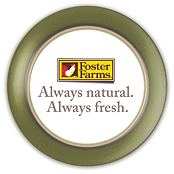 Servings: 4
Prep Time: 15 minutes
Cook Time: 10 minutes
User Rating:

Read User Reviews
Print:
3x5
,
4x6
,
full page
Copyright 2005 Allrecipes.com; by Trish
Summary
Chopped mushrooms and onions keep these turkey burgers perfectly moist on the grill. Blue cheese rounds out this quick favorite with a flavor you'll find irresistible!
INGREDIENTS
1 pound Foster Farms Fresh Ground Turkey 7% Fat
8 ounces fresh mushrooms, finely chopped
1 onion, finely chopped
2 tablespoons soy sauce
1/2 teaspoon kosher salt
1/4 teaspoon black pepper
1/4 cup crumbled blue cheese
USER NOTES & RATINGS
6/27/2005 Reviewed by Carol

More work than a burger should be and cheese overwhelmed all the other flavors
Rate and add Comments
DIRECTIONS
1. Preheat grill for high heat.

2. In a medium bowl, mix together the ground turkey, mushrooms, onion, and soy sauce. Season with kosher salt and pepper. Form into 4 burger patties.

3. Lightly oil the grill grate. Place patties on the prepared grill, and cook for 10 minutes per side, or until well done. Top with blue cheese during the last few minutes.
NUTRITIONAL INFO
| | |
| --- | --- |
| Calories | 252 cal |
| Total Fat | 13.5 g |
| Cholesterol | 90 mg |
| Sodium | 901 mg |
| Carbohydrates | 5.6 g |
| Fiber | 1.3 g |
| Protein | 26.7 g |