Ginger-Orange Glazed Chicken Wings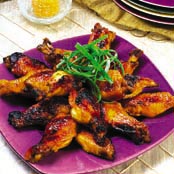 Summary
If you have the time, these wings are a great crowd pleaser with a different flavor than what you get from packaged, flavored wings.
INGREDIENTS
2 pounds Foster Farms Chicken Wings (about 24)
1/2 cup orange juice concentrate, undiluted
3 tablespoon fresh lemon juice
1/4 cup Hoisin sauce
1 tablespoon canola oil
1/4 cup sugar
3 tablespoon fresh ginger, minced
3 cloves garlic, minced
3 scallions, slivered
DIRECTIONS
1. In a large plastic, resealable bag, place orange juice concentrate, lemon juice, Hoisin sauce, canola oil, ginger and garlic. Seal and shake to mix. Add chicken wings, seal and shake to coat evenly. Refrigerate overnight, or up to 3 days.

2. Preheat oven to 400F. Line a large sheet pan with aluminum foil. Spread wings on foil. Bake for 45 minutes, until brown and shiny.

3. Transfer to serving platter and sprinkle with scallions.
NUTRITIONAL INFO
| | |
| --- | --- |
| Calories | 515 |
| Total Fat | 29 g |
| Saturated Fat | 8 g |
| Protein | 38 g |
| Carbohydrates | 24 g |