Grilled Cornish Game Hens with Mexican Basting Sauce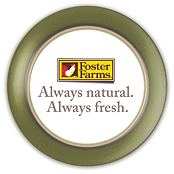 INGREDIENTS
3 Foster Farms Cornish Game Hens
Mexican Basting Sauce:
2 tablespoons chili powder (not pure chile)
4 teaspoons cocoa powder
2 teaspoons ground cumin
1 teaspoon salt
1/2 teaspoons each ground allspice, garlic powder, and ground black pepper
juice of 2 lemons
1/4 cup vegetable oil
DIRECTIONS
1. Preheat gas grill or light charcoal briquettes. Use poultry shears or knife to cut hens in half, cutting through breast and backbones. Arrange on platter. 2. Make basting sauce*. In a small bowl, stir together chili powder, cocoa, cumin, salt, allspice, garlic powder and pepper. Stir in lemon juice and oil, mix well. Let stand 5 minutes (or cover and refrigerate up to 2 days) Makes basting sauce for 3 hens. Brush sauce over 1/2 hen. 3. Grill hens, covered, over low to medium heat until golden brown, turning as needed to prevent burning. When hens are browned as desired, reduce temperature or transfer hens away from direct heat and finish cooking with indirect heat. Grill until no longer pink at the bone, about 40 to 45 minutes total.