BBQ Chicken Salad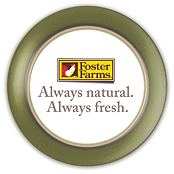 Servings: 4
Prep Time: 15 minutes
Cook Time: 20 minutes
User Rating:

Read User Reviews
Print:
3x5
,
4x6
,
full page
Copyright 2005 Allrecipes.com; by Deborah Noe
Summary
This lively salad of grilled chicken, corn, bell pepper, and onion is dressed with a tangy mixture of barbeque sauce and mayonnaise.
INGREDIENTS
2 Foster Farms Boneless Skinless Breast Fillets
4 stalks celery, chopped
1 large red bell pepper, diced
1/2 red onion, diced
1 (8.75 ounce) can sweet corn, drained
1/4 cup barbeque sauce
2 tablespoons fat-free mayonnaise
DIRECTIONS
1. Preheat grill for high heat.

2. Lightly oil grate. Grill chicken 10 minutes on each side, or until juices run clear. Remove from heat, cool, and cube.

3. In a large bowl, toss together the chicken, celery, red bell pepper, onion, and corn.

4. In a small bowl, mix together the barbeque sauce and mayonnaise. Pour over the chicken and veggies. Stir, and chill until ready to serve.
NUTRITIONAL INFO
| | |
| --- | --- |
| Calories | 154 cal |
| Total Fat | 2.5 g |
| Cholesterol | 34 mg |
| Sodium | 376 mg |
| Carbohydrates | 20.2 g |
| Fiber | 3.2 g |
| Protein | 15 g |