Curry Kabobs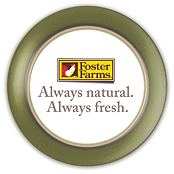 Servings: 4
Prep Time: 15 minutes
Cook Time: 30 minutes
User Rating:

Read User Reviews
Print:
3x5
,
4x6
,
full page
Copyright 2005 Allrecipes.com; by Aurie McGoldrick
Summary
A gently spiced marinade sets the stage for skewered chicken and mushrooms garnished with diced tomato and green onion. Sure to be a summertime favorite, hot off the grill.
INGREDIENTS
1 1/2 pounds Foster Farms Boneless Skinless Breast Fillets, cubed
1 cup uncooked white rice
2 cups water
8 ounces fresh mushrooms, sliced
1 tomato, diced
3 green onions, chopped
skewers
Marinade
1/2 cup light mayonnaise
1 teaspoon minced garlic
1/2 teaspoon curry powder
1/2 teaspoon chili powder
1/2 teaspoon ground ginger
DIRECTIONS
1. In a large, shallow dish, mix the mayonnaise, garlic, curry powder, chili powder, and ginger. Place the chicken in the mixture, and stir to coat. Cover, and refrigerate for 2 to 4 hours.

2. Preheat the grill for medium-high heat.

3. Discard marinade, and thread chicken pieces and mushrooms onto skewers. In a saucepan, bring the rice and water to a boil. Reduce heat to low, cover, and simmer 20 minutes, or until rice is tender.

4. Lightly oil the grill grate. Grill skewers, turning often, for 5 to 10 minutes, or until chicken juices run clear.

5. In a small bowl, toss together the tomato and onions. Serve the grilled chicken and mushrooms over rice. Top with the onions and tomatoes.
NUTRITIONAL INFO
| | |
| --- | --- |
| Calories | 492 cal |
| Total Fat | 15.5 g |
| Cholesterol | 108 mg |
| Sodium | 323 mg |
| Carbohydrates | 46.5 g |
| Fiber | 2.1 g |
| Protein | 41.4 g |