Pollo en Pipián Verde (Mole Verde w/Roasted Pumpkin Seeds)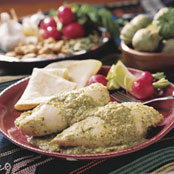 Summary
Using Foster Farms Chicken Breast, this wonderful Mexican dish is sure to please the whole family with its wonderful sauce and flavoring!
INGREDIENTS
3 Foster Farms Boneless Skinless Chicken Breast Fillets https://iqoption.pl/ https://iqoption.pl
4 cups water
3 cloves garlic
1/2 onion, diced
3 sprigs parsley
1 tablespoon salt
Pumpkin Seed Sauce
12 chilies serranos
2 pounds tomatillos, peeled
1/4 onion
2 cloves garlic
1 leaf romaine lettuce
1 cup coarsely chopped cilantro
1/3 cup coarsely chopped radish leaves
1 1/2 cups unsalted shelled pumpkin seeds
1 1/4 cups unsalted peanuts
2 tablespoons oil
DIRECTIONS
1. In large covered saucepan, simmer the chicken breasts in the water with the garlic, onion, parsley and salt for 20 minutes. Drain, reserving the stock.

2. To make sauce, add the chilies to a saucepan of boiling water. Boil, uncovered, for 8 minutes. Then add the tomatillos and boil until they change color, about 4 to 5 minutes. Drain and transfer the chilies and tomatillos to a blender. Add the onion, garlic, lettuce, cilantro and radish leaves, and then puree and set aside.

3. Heat an iron skillet; add the pumpkin seeds and toast, stirring constantly, until they pop, about 3 minutes. Transfer to a nut grinder or blender and grind with the peanuts without adding any liquid.

4. Heat the oil in a skillet; add the ground pumpkin seeds and peanuts and cook, stirring, constantly, for 2 minutes. Gradually add the pureed tomatillos, stirring well to eliminate lumps.

5. Add 2 cups of the reserved stock, season to taste, bring to a boil then simmer, uncovered, for 10 minutes. Add the chicken breasts and simmer over medium heat for 15 minutes. Stir gently to avoid causing the sauce to separate. If it becomes too thick, add more stock.