Chili Drumsticks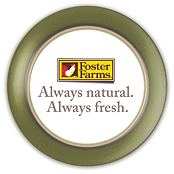 Servings: 3 to 4
Prep Time: 10 minutes
Cook Time: 30 minutes
User Rating:

Read User Reviews
Print:
3x5
,
4x6
,
full page
Foster Farms Recipe
Summary
These delicious drumsticks, using fresh Foster Farms chicken, will spice up any occassion. Great for large gatherings too!
INGREDIENTS
Chicken:
1 package (about 1 1/2 lbs.) Foster Farms Chicken Drumsticks
Cornmeal Mixture:
1/3 cup cornmeal
2 teaspoons chili powder
1/2 teaspoon oregano
1/2 teaspoon cumin
1/2 teaspoon garlic salt
1/2 teaspoon pepper
1/4 teaspoon cayenne pepper
Top With:
salsa
USER NOTES & RATINGS
10/1/2010 Reviewed by Dorothy Porter

10/1/2010 Reviewed by Dorothy Porter

Rate and add Comments
DIRECTIONS
1. Heat oven to 350 degrees. Rinse chicken and pat dry. Spray rectangular baking pan 13x9x2-inches, with nonstick cooking spray.

2. In medium bowl or heavy plastic bag, combine cornmeal, chili powder, oregano, cumin, garlic salt, and peppers.

3. Coat chicken in cornmeal mixture; shake excess. Bake chicken 25 to 30 minutes or until no longer pink when cut into.

4. Serve with salsa.