Chicken Livers and Wild Rice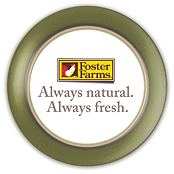 Summary
Enjoy Foster Farms premium chicken livers served over hearty wild rice with this recipe.
INGREDIENTS
Chicken Livers:
1 carton (15 oz.) Foster Farms Chicken Livers
flour
Cream Mixture:
1/4 pound butter
1 large onion
1 container (1/2 pint) heavy cream
salt and pepper to taste
DIRECTIONS
1. Blot livers dry. Dust with flour. Saute onion in butter then add livers and cook 5 to 6 minutes.

2. Add salt and pepper to taste. Stir in heavy cream and cook an additional 5 minutes. Serve over wild rice.