Owen's BBQ Chicken Legs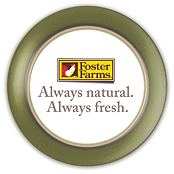 Servings: 5
Prep Time: 20 minutes
Cook Time: 30 minutes
User Rating:

Read User Reviews
Print:
3x5
,
4x6
,
full page
Copyright 2009 Allrecipes.com; by Dell
Summary
Using Foster Farms Drumsticks, brown sugar, oil, vinegar, garlic, ketchup and onion are cooked until all the flavors are mingled and the sauce is thick and fragrant.
INGREDIENTS
10 Foster Farms Whole Chicken Legs
2 tablespoons vegetable oil
1 onion, finely chopped
2 cloves crushed garlic
3/4 cup ketchup
2 tablespoons Worchestershire sauce
2 tablespoons white wine vinegar
2 tablespoons brown sugar
1/2 cup water
salt and pepper to taste
DIRECTIONS
1. Heat oil in a medium saucepan over medium heat. Add the onion and garlic and saute for 5 to 10 minutes, or until onion is tender. Then add the ketchup, Worcestershire sauce, vinegar, brown sugar and water. Mix together well and season with salt and pepper to taste. Reduce heat to low, cover and simmer for 20 minutes. Set aside, covered, and let cool.

2. Place chicken in a shallow, nonporous dish and pour sauce over chicken, reserving some sauce in a separate container for basting. Cover chicken and marinate in the refrigerator for at least one hour, or overnight. Cover reserved sauce, if any, and keep in the refrigerator.

3. Preheat an outdoor grill for medium high heat and lightly oil grate.

4. Grill chicken over medium high heat for 8 to 12 minutes per side, basting occasionally with the sauce, if any, until internal temperature reaches 180 degrees F (80 degrees C).
NUTRITIONAL INFO
| | |
| --- | --- |
| Calories | 746 cal |
| Total Fat | 46.2 g |
| Cholesterol | 277 mg |
| Sodium | 762 mg |
| Carbohydrates | 18.5 g |
| Fiber | 0.9 g |
| Protein | 61.5 g |