Teriyaki Chicken Thighs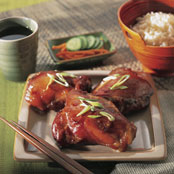 Summary
Using Foster Farms Chicken thighs, this Asian treat is fantastic with vegetables, rice, or a great salad!
INGREDIENTS
12 Foster Farms Chicken Thighs
Marinade:
1 cup soy sauce
1 cup sugar
1 teaspoon fresh grated ginger
1 clove garlic
3 green onions, chopped in 1 1/2" sections
1/2 cup sake
DIRECTIONS
1. Bring to a boil all sauce ingredients, stirring constantly until sugar dissolves. Let simmer for 2 minutes. Allow marinade to cool in refrigerator for one hour.

2. Add chicken and marinate overnight or at least 2 hours. Broil until golden brown. Bake at 375°F for 30 minutes or until chicken reaches an internal temperature of 170 degrees F.

Optional: for quick meal use thin sliced boneless skinless breast. Marinate 25 minutes.