Thai Grilled Chicken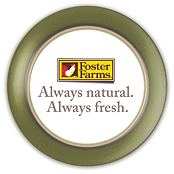 Summary
Enjoy Thai flavors with Foster Farms fresh chicken thighs. The savory marinade in this dish makes it a fast favorite! Serve with Jasmine rice to complete the meal.
INGREDIENTS
Chicken:
1 package Foster Farms Chicken Thighs
Sauce:
6 cloves garlic
1/2 cup chopped fresh cilantro, leaves and stems
1/4 cup vegetable oil
1 tablespoon each whole black peppercorns, soy sauce and lemon juice or wine vinegar
DIRECTIONS
1. In blender, process garlic, cilantro, oil, peppercorns, soy sauce and lemon juice into a smooth sauce. Measure out 1/4 cup of sauce and refrigerate.

2. Rub remaining sauce evenly over chicken and slip some under the skin. Cover and refrigerate at least 4 hours or overnight.

3. Grill chicken on a lightly greased grill 4 to 6 inches above medium-hot coals. Grill, turning frequently, until meat is no longer pink at the bone, about 30 to 40 minutes.

4. Spoon reserved sauce over chicken.