Bacon Wrapped Drummettes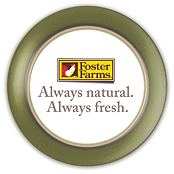 Summary
Using Foster Farms fresh wing drumettes, bacon, and sweet honey, these appetizers are sure to please any crowd. They are easy to prepare and cook quickly, leaving you plenty of time to visit with your guests.
INGREDIENTS
Chicken:
1 package Foster Farms Chicken Wing Drummettes
7 thin slices of bacon
2 tablespoons honey
DIRECTIONS
1. Cut bacon slices in half crosswise. Wrap one half slice around each drummette and secure with toothpick.

2. Brush each drummette lightly with honey (honey will be easier to brush on if warmed slightly).

3. Broil on a rack 3 to 5 inches from heat for 20 minutes or until bacon is crisped; turn frequently.