Barbecued Mini Drumsticks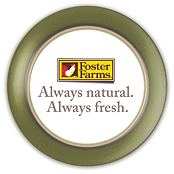 Servings: 14 appetizers
Prep Time: 50 minutes
Cook Time: 30 minutes
User Rating:

Read User Reviews
Print:
3x5
,
4x6
,
full page
Foster Farms Recipe
Summary
These barbeque inspired drummettes call for Foster Farms fresh chicken wings. Treat your crowd to these delicious drummettes at your next gathering!
INGREDIENTS
Chicken:
1 package Foster Farms Chicken Wing Drummettes
Sauce:
1/2 cup tomato sauce
1 tablespoon salad oil
2 cloves garlic, minced
2 teaspoons chili powder
1/4 teaspoon oregano
1/4 teaspoon salt
USER NOTES & RATINGS
1/1/2007 Reviewed by 25409

Rate and add Comments
DIRECTIONS
1. Combine all ingredients, except for the drummettes, in a medium sized bowl. Mix well. Add drummettes and marinate at room temperature for 45 mintues.

2. Arrange drummettes on baking sheet and bake at 350 degrees for 15 minutes. Turn and bake 15 minutes more.